Cookie policy
When you visit our website, information may be stored in cookie files that are installed on your computer or mobile device by us or by third parties.
What are cookies?
Cookies are small text files containing information that can be stored on your computer or mobile device via your browser when you visit an internet site. They allow the website to remember your actions or browser preferences so that you do not have to specify them again when you visit the site later. Cookies are placed by the website itself when you visit it ("own cookies") or by a domain other than that of the website ("third-party cookies").

Cookies can be placed on your device for an indefinite period of time or temporarily. "Persistent cookies" are cookies that remain on your computer or mobile device until you manually delete them or until they expire. Cookies that are only active during a browser session are called "session cookies". Session cookies are created temporarily. As soon as you close the browser, all session cookies are deleted.
ACV-CSC uses different types of cookies
We use different types of cookies:
Essential and functional cookies
Analytical cookies
Tracking or marketing cookies
Essential and functional cookies

ACV-CSC uses essential cookies to ensure the proper functioning of the website. They are absolutely necessary for the website's functioning.

ACV-CSC also uses functional cookies. Functional cookies allow ACV-CSC to remember your preferences and provide improved, personalised features.

Below is a list of these cookies used by the ACV-CSC site. Refusing these types of cookies (see below) may interfere with the proper functioning of our site.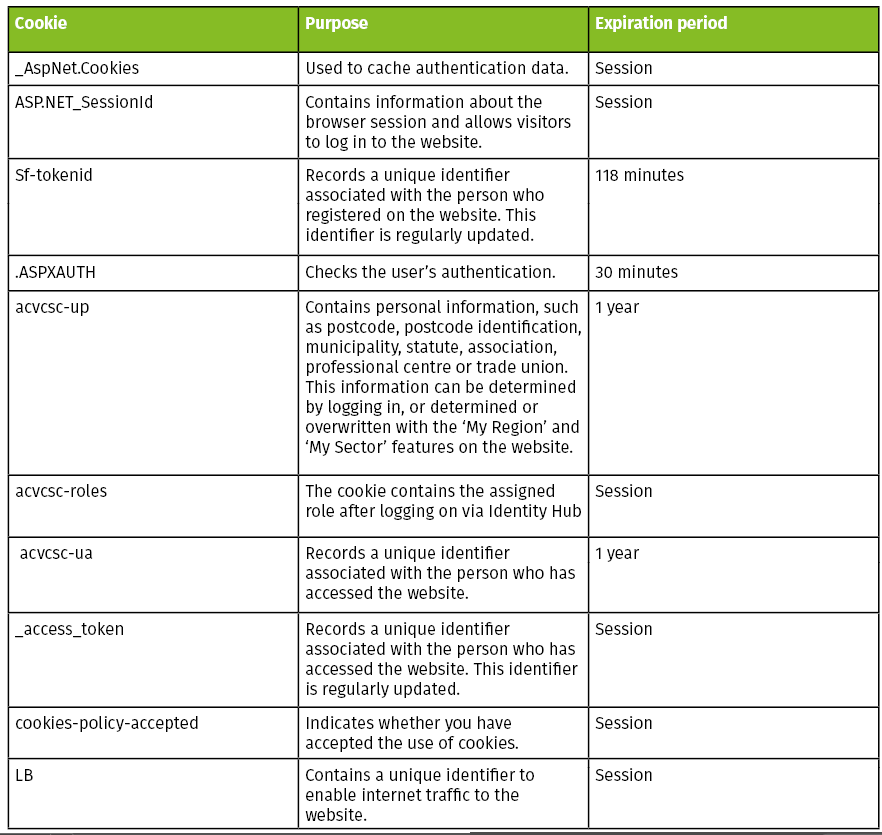 Analytical cookies
The site uses Google Analytics, an internet analysis service provided by Google Inc. ("Google"). Google Analytics utilises cookies to help a website analyse how users use the site. The information generated by these cookies about your use of the website is transmitted to and stored by Google. Google will use this information to remember how the site is used, to compile reports on website activity for website operators and to offer other services related to website activity and internet use. Detailed information on privacy and security of Google Analytics can be found via this
link
.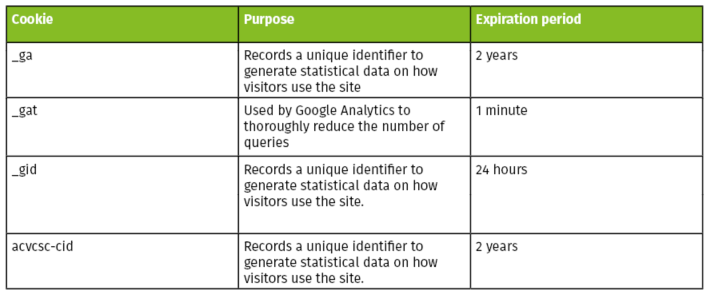 Tracking or marketing cookies

With the help of, among others, the Facebook pixel, ACV-CSC presents you with the most relevant content on this platform based on previous visits to our site. Facebook utilises cookies to track your browsing behaviour on our site and to establish a user profile that is used to personalise your browsing experience. The Facebook pixel is installed by ACV-CSC, but is administered by Facebook. For more information, please refer to the cookie policy on Facebook's website.

This is the complete list of these types of cookies used during your visit to our website:

Managing your cookies
Consenting:
The use of cookies requires your prior and explicit consent. The warning banner on our site allows you to consent to our cookie policy. By clicking "Accept", you agree to our cookie policy and its use by ACV-CSC.
Refusing cookies:
At any time, you can choose to reject all or some of these cookies. In such cases, we cannot guarantee that you will have access to all services on our site.
You can withdraw your consent at any time by refusing certain types of cookies or deleting them via your internet browser settings. Read on for more information about deleting or blocking cookies.
Deleting and blocking cookies:
You can accept, reject or delete cookies by changing your browser settings. You can change your browser settings via your browser's 'Options' or 'Preferences' menu. Please note that if you use your browser settings to block all cookies (including essential cookies), you may not be able to access the website or parts of it. Unless you have adjusted your browser settings so that all cookies are rejected, ACV-CSC's system will place cookies as soon as you visit the website.
Do you want to know more about blocking cookies?
For other browsers, please refer to your browser's help section or consult the publisher's site.
Want to know more about cookies and online privacy?